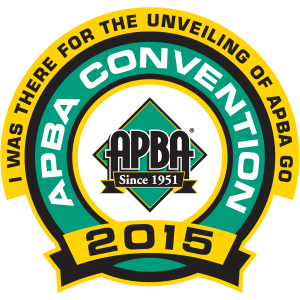 Thanks to everyone who attend the 2015 APBA Convention: it was a great success! Here's the rundown –
Tournament Results
Kevin Cluff's 1928 Yankees def. Billy Bell's 2013 Tigers
We had an outstanding 48 teams competing this year
Home Run Derby Results
Steve Skoff's 2000 Mark McGwire def. Charlie Wilson's 1954 Dusty Rhodes
We had 30 batters competing this year
Trophies
Veryl Lincoln Trophy – Kevin Cluff

Presented to the tournament winner

2015 Rookie of the Year – Billy Bell
2014 Rookie of the Year – Skeet Carr
Roy Award – Roy Langhans

Presented for outstanding service to the APBA community
Hall of Fame Inductees
Paul McEvoy
Steven Skoff
John Duke
Congratulations to each of the inductees. Thank you for your contributions to our favorite game! And thank you to HOFer Brian Wells for the excellent (and entertaining) inductee introductions.
Special Thanks
APBA would like to thank Steve Skoff, John Cochrane, Greg Barath and Ray Dunlap for presenting APBA Hockey, Soccer and Football at the Convention!
2016 Convention
24-26th June 2016
The Convention will host the finals of the 2016 Football, Soccer and Hockey Tournaments in addition to the entire Baseball Tournament.
Again, thanks to everyone who came out to the Convention – we can't wait to see you all again next year!
---
Photo Gallery