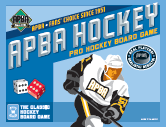 APBA is pleased to announce the next revision of its hockey game. New and exciting scoring chances with tip-ins and odd-man rushes are now added. Players with tough in the slot offensive capability are now more valuable as they battle inside for higher scoring percentage tip-ins and the chance to get extra rebounds.  Forechecking strategy is now more important as defenseman can elect to try long break out passes. Watch out when forechecking good passing defensemen with sub-par forecheckers or you might see an odd-man rush coming your way. But good forecheckers might get an offensive zone turnover for a good scoring chance themselves.
Certain rules are revised. A tied rating for certain match-up situations are now resolved in favor of the home team (rather than automatically to the defense) as the cheering crowd sends an adrenaline rush to the home team player. Cleared shots by defensemen now ricochet off of an offensive player out of the rink resulting a neutral zone faceoff, rather than a defensive zone faceoff.
Fighting situations have been simplified. Game misconducts are now issued with greater realism.
A host of new rare plays are added. Hear that clang off the goal post? Some pucks stay out but some go in the net for a goal.  Goalies with assist ratings might now make a long up ice pass for a scoring chance. Players have to play with broken sticks. Icing is waived off.  And there is a mad scramble in the goal crease! The red light has flashed. But the referee has it under review. Is it a goal or not?
You will have to get the APBA hockey game upgrade to find out. Available first at the Convention!