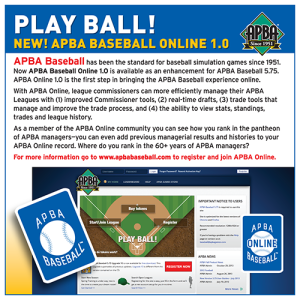 APBA Online 1.0 – New Features for APBA Baseball 5.75
Commissioner tools, file management system, real-time draft, league limit alerts, trades, stats, standings, trade history, draft results, user rankings, community tools, and much, much more! See screenshots and learn more here.
————————————————————————————————————-
For 60 years APBA has been the unchallenged King of quality sports strategy games.
Get in on the excitement with the fun, quick, and easy way to play your favorite sports, APBA Games! APBA puts you right in the middle of the action and allows you to enjoy the thrill of the game with realistic results!