VERYL LINCOLN (1945-2015)
It is with great sadness that we learn longtime employee and APBA legend Veryl Lincoln passed away this morning. Many APBA fans' experiences were benefited by Veryl's dedication to the game he loved, and he was inducted into the APBA Hall of Fame in 2002 for those immeasurable contributions. We will provide more details about his service as we receive them. Our condolences to his friends and loved ones; he will certainly be missed by the APBA family.
There will be a memorial service at Kraft Funeral Home in Landisville, Pennsylvania at 11 am on Tuesday 23 June. 
REGISTER NOW: 2015 APBA CONVENTION
The 2015 APBA convention will be held the weekend of June 26th through June 28th. It will again be at the Hilton Gardens. The convention fee will be $115. This includes Friday night dinner, Saturday lunch and a Saturday afternoon snack. Coffee will be available. Please bring a cooler with other refreshments. This is necessary to minimize the convention fee.
For more information, see the 2015 APBA Convention page.
Excited New APBA Player
2014 APBA Convention Recap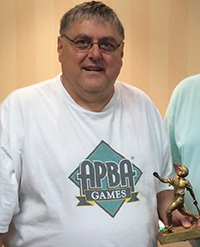 1916 Brooklyn Dodgers win tournament. Cliff Van Beek inducted in the APBA Hall of Fame.
Congratulations to Paul Trinkle, manager of the 1916 Brooklyn Dodgers, winner of the 2014 APBA Baseball Convention Tournament. Trinkle, with assistance from emergency manager Brian Wells, defeated Skeet Carr's 2011 Texas Rangers 3 games to 2. The Dodgers won the last two games in extra innings to clinch the championship.
There were six divisions of six teams each, and one eight-team division. The division winners and the best second place record advanced to the quarterfinals. Trinkle was the wild card with an 8-2 record.  Trinkle's 8-2 would have won every division except the one he was in. Greg Wells' 1920 Cleveland Indians went 10 and 0 to win the Levy division. Wells won 11 in a row before Carr's Texas Rangers won the last two games of their quarterfinal matchup, including an 8-7 ten-inning finale. The Rangers tied the clincher in the 9th and scored 2 in the tenth to advance to the semi-finals.
Two time defending champion Steve Skoff, 1910 A's, advanced to the semi-finals before losing to Trinkle's Dodgers. Congratulations on a great three year run, Steve!
In other quarterfinals action, Skoff's 1910 A's defeated John Kalous, 1936 Yankees, 2 games to 1. Trinkle defeated Mitchell Briscoe's 1937 New York Yankees in a two game sweep. The other semi-finalist Steve Ryan with the 1998 Braves defeated Joe Sweeney, 1930 Giants, in the other quarterfinals. Carr defeated Ryan in the other semi-finals.
Trinkle had to leave after the semi-finals to catch his flight. Substitute manager Brian Wells, followed Trinckle's instructions in leading the Dodgers to their victory. Despite Wells' pleas, this is not his third championship.
A Home Run derby was added to this year's convention which was won by Steve Ryan's 1953 Ted Williams. Williams beat 1937 Lou Gehrig 24-12 in the finals.
Clifford Van Beek was the sole inductee in the 2014 APBA Hall of Fame class. Van Beek was inducted for his role in developing National Pastime, the predecessor to APBA Baseball. Van Beek's son Lawrence and his two daughters, Mary and Carol, were on hand to receive his Hall of Fame plaque. Special thanks to Pete Simonelli, whose tireless efforts were the catalyst for the Van Beeks attending this year's convention.
A new Rookie of the Year award was announced at the convention. Rebecca Petersen is the 2013 convention ROY. The 2014 Rookie of the Year will be announced at the 2015 convention. There were seven rookie managers out of the 44 managers participating this year, six more than last year.
Roy Langhans and Eric Naftaly continued their perfect attendance at every convention.  Skeet Carr has attended every convention, but this was the first time that he participated in the tournament.
Special thanks to Ray Dunlap and Greg Barath for attending the convention and providing demonstrations and tips for football solitaire play. There will be an eight team, single elimination football tournament at the 2015 convention.
Thanks to Jim Watt, who attended the Friday night dinner and left many APBA baseball seasons for others to file in their collections. Thank you, Jim!
Next year's convention is scheduled for June 26-28 in Alpharetta, Georgia.
Convention pictures are here.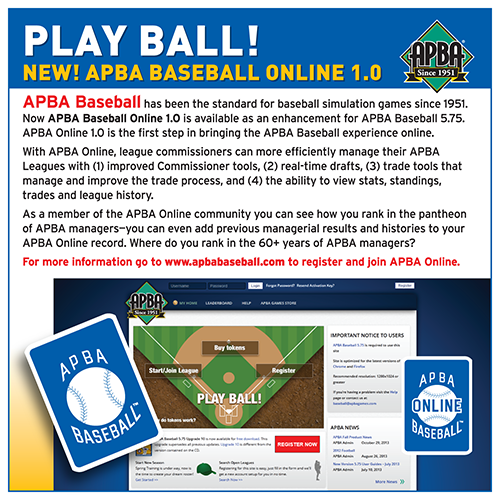 For 60 years APBA has been the unchallenged King of quality sports strategy games.
Get in on the excitement with the fun, quick, and easy way to play your favorite sports, APBA Games! APBA puts you right in the middle of the action and allows you to enjoy the thrill of the game with realistic results!